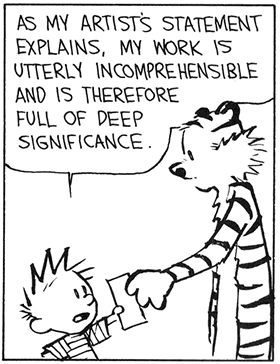 Cartoon by Bill Watterson, July 15, 1995
Artist statement
vvz3n is a hacker, virtual artist and lover of anything computer generated.
He sees code as a way of expressing thoughts, feelings and ideas; not just as a tool to solve problems, but to create new ones. Through the design of apparently long-winded algorithmic processes, most of his work is aimed to the exploration and visualization of data, and investigating the line between knowledge and information. Most of these projects result in interactive computational artefacts : machines, algorithms, simulations.
In 2014, he collaborated with NAGEL (electronics and cello) to create the audio-driven visuals for their live performance in Verona (Italy). In 2017, he won an award at the 2017 Digital Design Awards in Milan thanks to a data-driven illustration of the car crashes happening in Rome in a single year. In 2018, he pursued a Computational Arts at Goldsmiths, where he presented, as the final project, a Paintball machine hacked to shoot portraits of people.
Since 2019 he's been working as a software developer in different VFX studios.
Exhibitions
---
Echosystems
Hatcham, London, UK
6-9 September 2018

Expanding Systems
26 January - 18 February 2018
APT Studios, London, UK